Cracked
:
iTunes
|
Amazon
|
Smashwords
Crushed
:
Amazon
|
Kobo
|
Barnes & Noble
|
Google Play
|
Createspace
(print edition!)
Eliza Crewe
:
Goodreads
|
Twitter
|
OHP
Do you remember
this
? Remember when I said oh poop the publisher is no more and we don't know what will happen to the next books? Remember when I said oh I hope everything is fixed soon and we don't have to wait too much for
Crushed
?
Well, guess what.
Fairy Godmother Eliza Crewe got her rights back and said:
Wish granted.
Which translates to swift self-publishing. Crushed, along with the Author's Edition Cracked, were self-published at the end of September, barely a month and a half after Strange Chemistry ceased to exist. You can now go and get them both on the nice and pretty links above.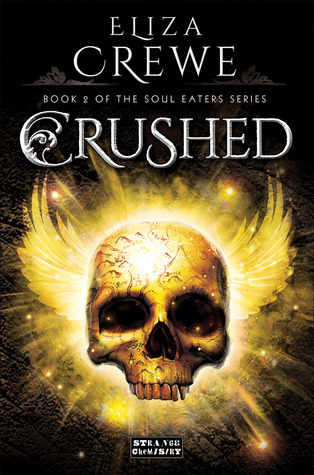 (This image has the logo of Strange Chemistry in, but the right one doesn't. There is no SC version of this book on sale anywhere. Likewise you should note that the right version of Cracked now comes without the SC logo, as it's the Author's Edition you should be buying.)
I cannot tell you how excited I am (actually, I was going to show you how excited I am, in a video, with my face and everything, but then I chickened out, so yeah, maybe next time). I loved Cracked, and let me tell you, I love Crushed just as much. Undoubtedly 5 star material. I knew it even as I was just starting it: if a book makes me want to read it out loud for all to hear, it's definitely a good one.
This time round, the story is more serious, more complicated. Which is not to mean it's any less fun than Cracked. The inside of Meda's head is as fun as ever. I could even say there's an extra element of fun, what with Armand joining the party and all. Also, Jo is, if possible, even more badass than before.
About the feels it will give you, the book is heartbreaking and infuriating, often at the same time. I particularly remember this bit, around page 90 I think, that was so intense, I was very angry, very into the story, and suddenly I was called to dinner, and it took me a bit to remember I wasn't angry at real life.
Plot wise, fear not (actually do fear), Eliza is here to deliver a kick of unexpected. And I mean a kick because it feels like a kick in the guts. Right when you're expecting it to come...you wrap your feels, you get your mind into defense pose...facing the Unexpected Twist...and then it kicks you from behind. That's what it feels like.
Right, this is where I get nitpicky and list the things I did or didn't like. I'll start with the didn't, because it's a much shorter list:
Meda doesn't like cats. It was mentioned in Cracked and again here, but I still cannot wrap my head around someone not liking cats. Plus I get the distinct feeling that she SHOULD like them. But yeah, seriously speaking, there isn't any fault I see in this book. If you get very nitpicky you could argue that the similarities between Templars and Shadowhunters are still there but then again, superhuman superwarriors, Bible babble, a few similarities are unavoidable.
The list of things I did like starts with the Meda-Jo relationship. The fact that friendship, and not romance, was central to the story was part of what set Cracked apart from others in the genre, so seeing that friendship evolve in Crushed is very interesting.
The internal monologue, Life Inside Meda's Head. Still funny, as expected, but this time, I feel like it was necessary for us to be inside her head in order to fully understand her. Her amorality seems more obvious this time too. Her feelings, train of thought, what she knows and doesn't know...I think I can understand Jo pretty well without being inside her head, but I probably couldn't understand Meda completely if she wasn't the MC.
There's also the way Meda is constructed, she is more powerful than both Templars and demons, yet she's not Mary-Sueish at all. Eliza has done a very good job of raising the stakes and complicating the plot in just the right way so that it's difficult for Meda and friends to "get out of trouble" (look at me being subtle to avoid spoilers).
I realize I haven't mentioned Chi at all, but he's there I promise. Always fun, Chi.
All in all, this is a brilliant sequel to a brilliant book, unputdownable (still doing the Hunger Games thingy I mentioned last time) 5 star material. I love this stuff and you must expect me to keep flailing about it in the near future. Namely, whenever we get any news about the third book. Which will be the last in the series, I think, boo.
Now for the nails.
Obviously inspired by the cover. I think the gradient of the yellow light ended up more neon-y than intended, but I guess that's what I get for doing it with warm artificial light. Also not my smoothest gradient ever, I will admit. The gradient nails are the only ones that are full nail polish, the rest are all acrylic paint on top of a plain black polish base.
The middle finger...ah, not my fave. I really should've done that texturey thingy as the base, like I did on the thumb and pinky, and the winged skull should have been outlined. But oh well. I still have lots to learn when it comes to acrylics.
Details: the texturey thingy mentioned above, the Beacon Map skull and the C from the title. The texturey thingy you can't appreciate very well, and I couldn't see any sort of pattern on it either, so I gave up on being accurate and just took the idea of texture when translating the image on to the nails. Basically, I mixed silver and black and sploshed it on the nails with a toothpick, in the least tidy fashion I could manage. Then I drew the skull and added the map-like scribblings with veeeeery thinned out brown, and they ended up looking like random squiggly lines, I know *sigh* I tried.
The C was done in plain white acrylic paint, also very thinned out, and it didn't turn out too bad I thought. That was before I scratched part of it off (accidentally) when I was going to grab the top coat. I'm clumsy like that.
Hope you enjoyed, see you next time!